You have just submitted a claim for disability benefits. Whether it be for short-term disability benefits or long-term disability benefits, the Insurance Company must comply with the regulations outlined in The Employee Retirement Income Security Act of 1974 (ERISA).
How Long Will the Insurance Company Take to Approve my Disability Benefits?
The Employee Retirement Income Security Act of 1974 (ERISA) requires the Insurance Company to notify the claimant of their decision no later than 45 days after receipt of claimant's claim letter unless there are special circumstances.

What are "Special Circumstances"?
The insurance company must indicate the Special Circumstances that require an extension of time to make a decision on your disability benefits. Special Circumstances must be "beyond the Insurer's control."
Sometimes the insurance company will try to use their "independent medical review" as a special circumstance to request an extension. Courts have ruled against this.
In a case where the insurance company tried to claim their independent medical review as a special circumstances, the Court ruled against it: "Virtually every appeal of the denial of a disability benefits claim will require 'physical and vocational review,' and thus this cannot constitute a valid 'special circumstance.'" Salisbury v. Prudential Ins. Co. of Am., 238 F. Supp. 3d 444, 450 (S.D.N.Y. 2017).
What does the Insurance Company do when they are reviewing my claim?
The Insurance Company will conduct an independent medical review of your claim and supporting documents. The independent medical review consists of:
Vocational reviews
Peer reviews
Independent medical evaluations
Functional capacity evaluations
And more.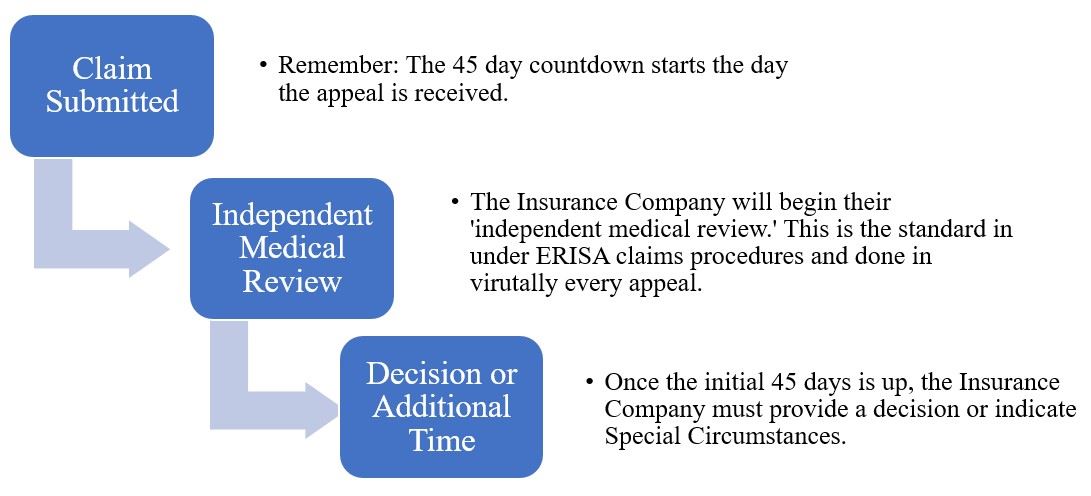 The Insurance Company has not made a decision on my claim. What happens now?
The Insurance Company must provide a decision on your claim within the initial 45-day period. If the Insurance Company has not made a decision and has not indicated a "Special Circumstance" that requires an extension of time, you are entitled to file a lawsuit under ERISA, Section 502(a)(1)(B).
Help from a Lawyer with Expertise in Disability Insurance
Disability insurance law is complex. Hiring an experienced disability attorney is important. Because all disability lawyers at this law firm focus on disability insurance claims, we have expertise in disability insurance law.
That means we have:
Experience with every major disability insurance company.
A proven track record of success in major disability lawsuits.
Recovered millions of dollars in disability benefits for our clients.
And, we never charge fees or costs unless our clients get paid.
The firm can help at any stage of your disability insurance claim, including:
Because federal law applies to most disability insurance claims, our lawyers are able to represent clients across the country.
Call us at (800) 969-0488 or contact us online to speak with an experienced disability attorney. Consultations are free.