Trigeminal & Occipital Neuralgia Claims Attorneys
Dabdoub Law Firm Handles Disability Insurance Claims Nationwide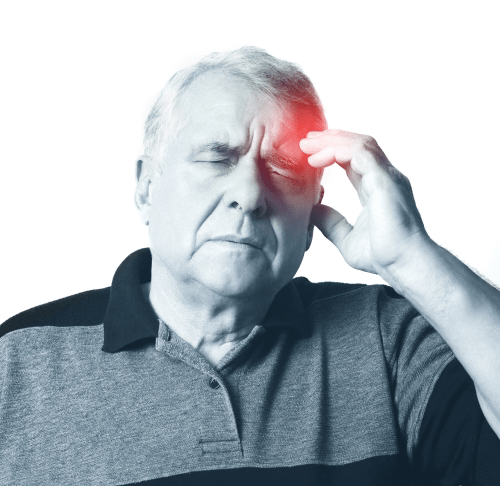 Trigeminal neuralgia is sometimes described as "the most excruciating pain known to humanity," and occipital neuralgia isn't much different. The conditions represent pain in the trigeminal and occipital nerves, respectively, and both can be debilitating.
The word "neuralgia" breaks into 'neur' and 'algia.' Neur means nerve, and algia means pain, so neuralgia literally means nerve pain. People who suffer neuralgia describe it as a stabbing, burning, and often severe pain, and the condition can occur anywhere in the body as a result of irritated or damaged nerves.
Because occipital and trigeminal neuralgia affect the back of the head and the face, they are often considered more severe. Excruciating pain in the face and severe headaches can make it all but impossible to hold gainful employment. Fortunately, if you are covered by disability insurance, at work or independently, you may be able to take time away from work to help you manage your condition. Short-term disability (STD) benefits can cover you while you seek treatment and long-term disability (LTD) benefits could cover you for the rest of your life.
Dabdoub Law Firm has been helping people like you manage their disability claims for more than 20 years. We handle claims for people across the country, in all types of occupations, living with chronic pain and other medical conditions. Call us at (800) 969-0488 to get started today.
What is Trigeminal Neuralgia?
Also known as tic douloureux, trigeminal neuralgia is characterized as an intense, stabbing, electric shock-like pain in the lower face and jaw, or around the nose and above the eye. The trigeminal nerve has branches in the forehead, cheek, and lower jaw, and people typically only experience pain on one side of their face. Approximately 150,000 people are diagnosed with trigeminal neuralgia each year, and the disorder is most common in people over 50 and more common in women than in men. There is also evidence that the disorder runs in families.
Symptoms of trigeminal neuralgia include:
Sudden spurts of pain when chewing, talking, or touching your face
Uncontrollable
Pain in your jaw, gums, lips, cheeks, and other areas connected to the trigeminal nerve
A constant, burning sensation across the face
Many people mistake the symptoms of trigeminal neuralgia for a dental abscess at first, and some even have root canals performed. When the pain persists, doctors use magnetic resonance imaging (MRI) to diagnose trigeminal neuralgia.
In Type I or classic trigeminal neuralgia, the pain has cycles of attack and remission (periods with little or no pain), but in Type II or atypical trigeminal neuralgia, the pain is constant, and symptoms are more difficult to treat.
Whether you are experiencing a long stretch of Type I pain or the constant pain that characterized Type II trigeminal neuralgia, the condition can be debilitating.
If you cannot work, our neuralgia disability lawyers can help you collect disability benefits.
What is Occipital Neuralgia?
Occipital neuralgia comes from the greater occipital nerves, which emerge from bones of the spine in the upper neck and extend into the back of the head and the scalp. If one or both of these nerves becomes compressed (pinched) or irritated, you may suffer shooting, zapping, electric, or tingling pain on one side of the scalp or radiating pain toward one eye. Symptoms may also include numbness or sensitivity in the scalp, and some patients have a hard time washing their hair or lying on their pillows due to the pain.
The symptoms of occipital neuralgia can be very similar to those of migraines, and both conditions can make it hard to fulfill the responsibilities of your job. When going to work becomes unbearable, Dabdoub Law Firm can help.
Attorneys That Specialize in Handling Your Disability Insurance Claims
Dabdoub Law Firm was created with a single purpose in mind: to help people get disability benefits from insurance companies.
With that kind of focus, we have:
Every day, our disability lawyers work to get insurance companies to approve long-term disability claims or appeal disability benefits denials.
With so much at stake, shouldn't you have expert disability attorneys on your side?
Because federal law applies to most disability insurance claims, we do not have to be located in your state to help.
Call us at (800) 969-0488 today or contact us online to speak with a neuralgia disability attorney.