How Insurance Companies Use ERISA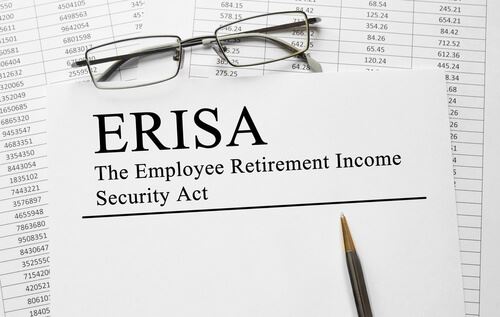 Every society, no matter how automated, requires a fair amount of people willing to participate in dangerous occupations. Whether it be a construction worker scaling the heights of an unfinished skyscraper, or an electrician dealing with a maze of outdated wiring, the risks many people face at their workplace are very real and present on a daily basis.
What happens, then, when the unthinkable happens, and you are faced with an injury that will affect you for the rest of your life? If you're prepared, the experience, while stressful, will certainly be more tolerable, with a far greater chance of a favorable outcome.
What is ERISA?
ERISA is the acronym for the Employee Retirement Income Security Act of 1974. If you're filing a long-term disability claim due to a workplace injury, it's almost certain to be covered by this legislation. While there are some benefits to consumers, such as an extended time period to file an appeal for a denied long-term disability claim, much of the process tends to skew to the advantage of the insurance company. This is true even more so if you enter the process unprepared and unaided.
How do Insurance Companies Gain the Upper Hand?
Let's face it, a long-term disability claim could cost an insurance company thousands, or even millions, of dollars over the lifetime of the claimant. They want to do everything possible to save money, and that means denying claims by any legal means possible. One snag that you can run into is the time limit to file an appeal on a denied claim.
Although we mentioned that this time is typically longer than a non-ERISA governed claim, once that time — usually about 180 days — is over, your chance to file an appeal, and thus pursue your claim further, essentially comes to an end. You can be sure that insurance companies will see to it that this is the end of the road for as many cases as possible.
The other big disadvantage claimants have is that an appeal case is typically decided by a federal judge without first meeting you in person. All they have to make their decision is in the file you prepare to present to them, which contains the same information as the insurance company's claim file. If you do not prepare this file as best you can, it puts you at a serious disadvantage, as the insurance company, possessing vastly more experience, knows how to paint a negative picture of you and your condition, however much supporting evidence you may have to the contrary.
At Dabdoub Law Firm, we know the items that need to be in a successful appeal file. Our disability insurance attorneys know the ways in which you can best represent yourself to the judge, even when you're not personally present before the judge. We will seek to understand the specific needs of your case, and go to work to seek every dollar you deserve.
If you need that kind of assurance in your case, call us at Dabdoub Law Firm today.
Posted By
Dabdoub Law Firm
Categories: