Your appeal is the most important part of a disability insurance claim. It is your last chance to provide supporting information for your disability before the file closes.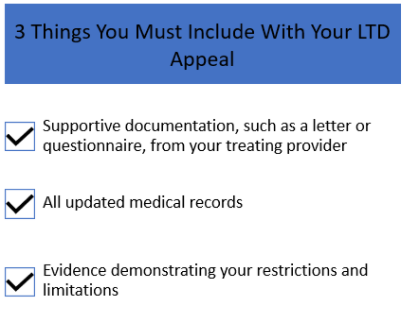 In most group disability insurance claims, when the appeal is decided the claim file closes. This means that once your appeal is over, you cannot present any additional information to the insurance company in support of your disability. That is why it is so important to provide everything you want during the appeal process.
Here is a list of the important items you want to be sure to include.
It is important to submit supporting documentation from your treating provider. This does not just mean the medical records. Your doctor should write a letter or fill out a questionnaire detailing your medical conditions, treatment, and why you are unable to work.
During the appeal, you want to be sure to provide all updated medical records. It is important you continue to see your doctors throughout the claim process and beyond. Regular care or treatment with a doctor is typically a requirement in disability insurance policies. Ideally, depending on your medical condition, your medical record will demonstrate abnormal physical examination findings or cognitive issues that support your disability.
It is important to provide evidence of your restrictions and limitations. This could be through abnormal physical examination findings or through imaging or tests. If your medical records do not include those types of details, you may need to seek outside testing such as a functional capacity evaluation or neuropsychological evaluation.
Help from a Lawyer with Expertise in Disability Insurance
Disability insurance law is complex. Hiring an experienced disability attorney is important. Because all disability lawyers at this law firm focus on disability insurance claims, we have expertise in disability insurance law.
That means have:
Experience with every major disability insurance company.
A proven track record of success in major disability lawsuits.
Recovered millions of dollars in disability benefits for our clients.
And, we never charge fees or costs unless our clients get paid.
The firm can help at any stage of your disability insurance claim, including:
Because federal law applies to most disability insurance claims, our lawyers are able to represent clients across the country.
Call to speak with an experienced disability attorney. Consultations are free.