Filing a disability insurance claim can be scary. There is a lot of paperwork to be filled out, medical records to be requested, and communications with an insurance company to respond to. Here are some tips to keep in mind when filing your claim for disability insurance benefits.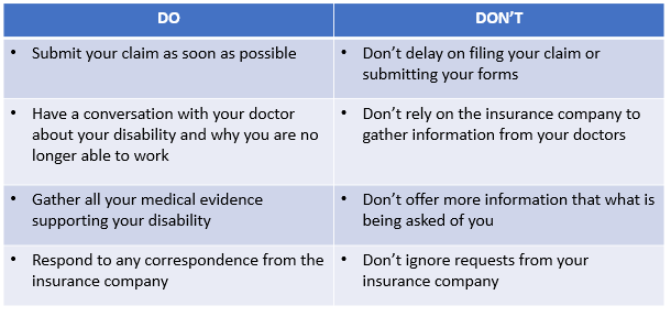 It is important to file your claim as soon as possible. Once you know you are no longer able to work, start gathering the paperwork, speak with your doctors and prepare yourself to file your disability insurance claim.

There is almost always a contractual time frame under which you have to file your claim. You do not want to delay and miss the deadline to file your claim. Your LTD policy will have the timeline for filing a claim.

You should have a heart-to-heart conversation with your doctors about your disability and why you are unable to work. You will need your doctor's support so it is best to have that conversation early. Your doctors will be asked to fill out forms, outline your restrictions and limitations and certify your disability.

Insurance companies send lots of letters - do not ignore them. Just like an insurance company has a time frame to make a decision, you too should respond timely. You do not want to be dealing with a denial of benefits for failure to return requested information, such as claim forms or medical records.

Filing a disability insurance claim is a big and crucial step in the disability process. You want to be sure you do not miss anything and submit all relevant information.

If you or someone you know is filing for disability insurance benefits, contact one of the disability insurance attorneys at Dabdoub Law Firm. We can help guide you through this process and ensure you get your claim filed properly.
Lawyers Specializing in Disability Insurance Claims
Because disability insurance law is complicated, it is important to get legal help from a lawyer who focuses on disability law.

As a law firm built to focus on disability insurance, our lawyers specialize in disability insurance. We spend every day working to get our clients long-term disability benefits approved.

Because federal law applies to most disability insurance claims, we do not have to be located in your state to help.

If your claim for long term disability benefits was denied or being delayed by an insurance company, call us to speak with a disability insurance attorney.

We represent clients across the U.S. with:


Get in touch to speak with an experienced disability attorney today – call us at

(800) 969-0488

or contact us online. Consultations are free.