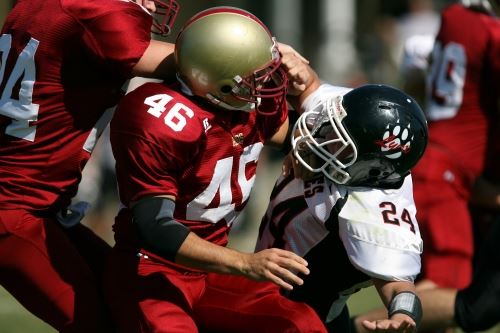 While National Football League athletes supply an entertainment venue for millions of fans during the season, the truth is they are employees in an industry just like all other workers. And, when disabilities arise, they are also entitled to disability benefits per the NFLPA collective bargaining agreement.
The problem becomes filing for those benefits and wading through the evaluation and approval process, which can be difficult for some former players.
The legal professionals at Dabdoub Law Firm are experienced in representing NFL player claims and understand the particular challenges players face while being approved for NFL disability benefits.
Recent Attention to Head Trauma
The NFL has actually been the target of much attention during the past few years regarding post-concussion syndrome following a playing career, as the studies involving the disability show that the injuries occur over an extended period of time and are the result of multiple collisions involving the head.
While it was once thought the helmet-to-helmet hits were the worst problem, tests have recently revealed that blows to the face are probably more dangerous. This is a form of contact that is practically impossible to stop in football.
This focus could help players in the future regarding disability benefits, but the truth is that football players sustain a wide variety of injuries that last throughout their life time, many of which restrict former players from performing any type of work.
The Approval Process
It is vital for a former NFL player to understand the initial disability application is very important in the process of winning a claim approval because it could be difficult to add to the record later unless there is a significant health event.
A comprehensive application that includes all pertinent health information is very important. This information also especially includes mental health records and testimony from the applicant regarding problems functioning normally in their everyday life.
NFL player claims must be proven just like in any other disability claim process. An initial denial of benefit approval is not unusual also, similar to claim approvals in other industries.
Our disability insurance attorneys at Dabdoub Law Firm understand that most cases are actually won on appeal and stand ready to represent our clients throughout the entire award process, including reclassification of players to reduce payable benefits.
Any former NFL player who thinks they could potentially have a disability claim with the NFL regarding injuries suffered while playing should contact Dabdoub Law Firm and allow us to evaluate your disability claim potential. Let us put our experience to work for you.