The short answer is no, if disability benefit payments are made by an insurance company, benefits will not cease.
Most people receive disability coverage through their employment. Those with disability coverage may be eligible to receive monthly benefits if they are too sick or hurt to work. These benefits are generally paid by insurance companies. These include, but are not limited to:
So, what happens if I lose my job while on disability?
Typically, long-term disability ("LTD") benefits can be paid through age 65 or 67. However, this does not mean that you will keep your employment throughout your disability. Indeed, we inform our clients receiving LTD benefits that their employment is likely to be terminated at some point.
It is natural to wonder if a termination of employment will affect their monthly disability payments. Namely, we are regularly asked whether benefits will stop if employment is terminated. The answer to this question is as follows:
If disability benefit payments are made by an insurance company, the simple answer is no, benefits will not cease.
If disability payments are made by an employer, benefit payments may cease upon the loss of employment in rare situations. A review of the disability insurance policy is required to determine whether your benefits are at risk.
If you have any concerns regarding the effects of a termination of benefits, please give our experienced disability insurance lawyers a call. Consultations are free.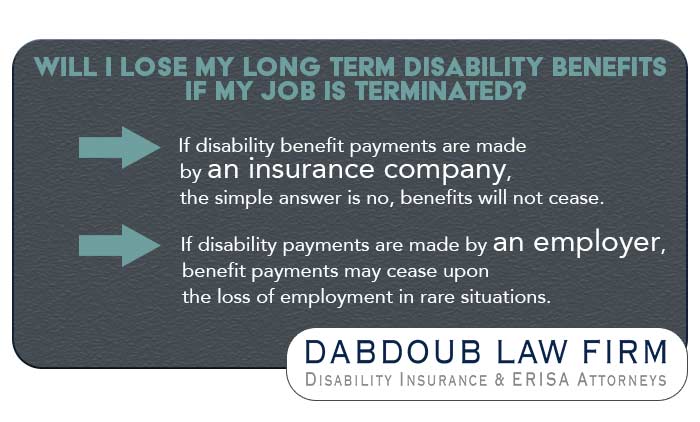 Your Duty to Continue Medical Treatment
If your employment is terminated you may also lose your health insurance coverage. This may make it difficult for you to continue to see your doctors on a regular basis. However, it is imperative you continue to treat with your doctors. Indeed, disability insurance policies generally require you maintain regular treatment with a physician. If you do not, your disability benefits may be terminated.
Hiring an Experienced Disability Insurance Lawyer is Important
Because our law firm has always focused only on disability insurance law, the firm has successfully represented hundreds of clients across the country. We have won several major disability lawsuits and have fought UNUM, Hartford, MetLife, CIGNA, Prudential, and more.
Because federal law applies to most disability insurance claims, we can help you even if we are not located in your state.
Disability insurance companies have lawyers. You should too. Call Dabdoub Law Firm to get experienced disability lawyers on your side.
We can help with:
Call for a free consultation with a disability attorney.